Manpaathakale Song Lyrics from "Velipadinte Pusthakam".Manpaathakale song is sung by Shaan Rahman.Manpaathakale tune made by Shaan Rahman with lyrics penned by Rafeeq Ahamed.Velipadinte Pusthakam film stars Mohanlal, Anna Reshma Rajan and also the songs were released in 2017.The music is released in Satyam Videos.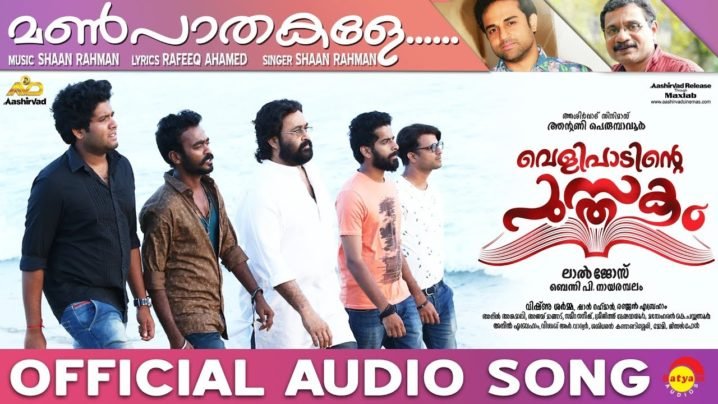 Manpaathakaleeyy….
onnu paranju tharuu..
kaal paadukalaal..
oru kadha ezhuthu..
ini cherthu vakyaam..
chila chirakadikal..
athil korthutharu
cheru thuvalukal..
jalakangal thurakam..
nerinte vazhiyee..
saura deepthi nirakamm..
minum neer maniyil..
orkuvaaann…
ennum orkuvaaan..
cheerkuvaan..
nengil cheerkuvaan…
poovinumm..
verum pullinum..
peeridaamm..
oru peeridaaamm..
vinn veethikalleee..
nin mara noriyuu..
venn tharakalaall..
oru kavitha tharuu..
ithuvazhi..poyaval..
maraviyil.. maanjavall..
vijanamaam bhoomikall..
sandvanangalall..
Manpaathakale Song Details
Movie :  Velipadinte Pusthakam
Song Name :  Manpaathakale
Starring :  Mohanlal, Anna Reshma Rajan
Music :  Shaan Rahman
Singers : Shaan Rahman
Lyrics : Rafeeq Ahamed
Label : Satyam Audios
Year : 2017